A real pole position: Pole Positions Moscow
Although it is almost impossible to find Pole Positions Moscow without a phone or when someone missed the vid itinerary (like me) or without some Russian skills, it is still worth to make an effort to try. Why? Because these guys're crazy!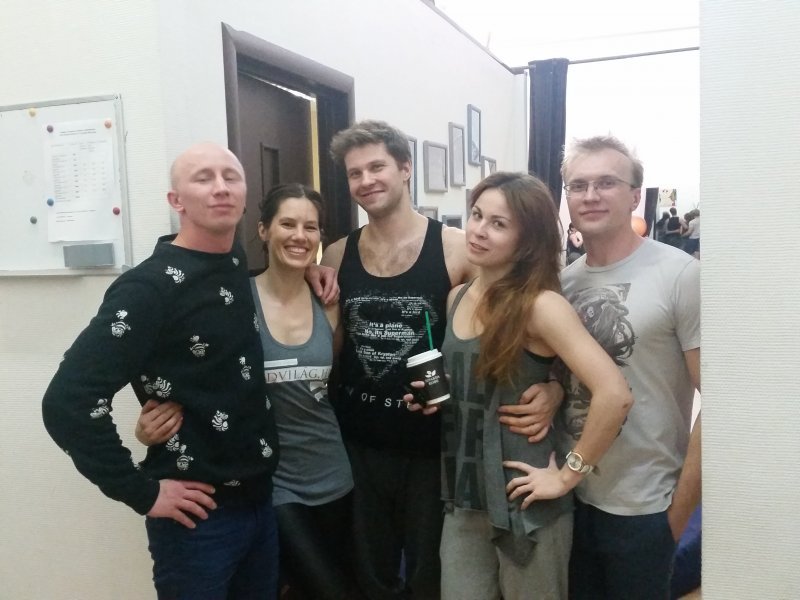 When one is travelling to new places, it would be a major crime to pass up an opportunity for a pole class. This is double­true for Moscow. Therefore, after short consideration, I have resolved to try myself at Trashdance. Following a brief correspondence, it turned out that that studio is in St Petersburg...no comment. Okay, let's find a studio in Moscow. Say, Pole Positions.
Veronychka at Trashdance were kind enough to recommend Alexander Baranov, one of the trainers at Pole Positions. While I am not familiar with the Russian system, I had a hunch that I should make an appointment and boy, was I right? It took me three days of extensive research to get a time slot, as all classes fill up super fast. That's no surprise considering the trainers, such as Yuliya Bozina. I am not fluent in Russian but even if she held the classes in Swahili, I would have attended. If the class would not have been full already. To my relief, I learned that Julia was in Turkey at the time, so I did not miss her class after all. So I kept on trying and before the day of my departure, I managed to get a spot in a group class as well as a private session – which turned into three classes in the end. This was shaping up to be quite interesting considering Russian standards and the fact that I have not touched a pole in two weeks.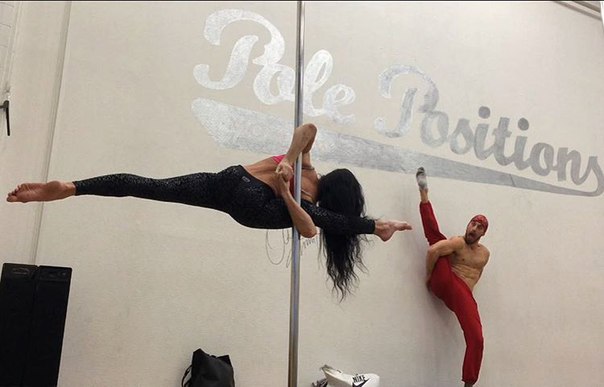 Work hours in Moscow appear to be very flexible, as my first class was scheduled for 17.30 and the last was supposed to end at 22.30. Seriously. To be sure that I get there on time, I arrived half an hour early to the address. I was already giving myself a high­five when I realized that the address was the entire building block of the old Russian Post. One side of the building was 100+ meters long, with added phalanstery­like blocks inside, with no signs whatsoever. So I started out with a light cardio session. I tried intuition and logic, to no avail. (I had no phone, no internet and least of all, time.) For a while, I tried to recall from memory, how the windows looked and match the correct part of the building to that image, but again, no joy. Then I had the idea that I will stand at an entrance and look for girls who look like polers. One came along so I started following her, even though she looked just as lost as me. We took different turns at a corner and when I looked back, she disappeared. Just poof, gone. I couldn't believe it. I started to panic here because I really, really wanted to go to those pole classes. I find a reception and use all my Russian to try and get directions. Maybe they understood, maybe just a little or not at all, who knows? They point at a neon sign, I run. Coffee grinding plant, seems to be new and the guy in the basement kinda speaks English which in Moscow is like Queen's English. I explain my distress in English/Russian, he calls the number I show him offline. Despite being puzzled as to why the call lasts so long, I wait patiently. I desperately need his help and am late already...
He suddenly hangs up and points a finger at a barely visible door in the distance, I should gothrough there, then to the third floor. Awesome. I run again. It takes me a moment to realize that I am trying to enter the elevator. Okay, door, third floor. Nothing. I am on an empty corridor of a gigantic old factory building, a photo studio in front of me. I could literally cry. I can't give up now, I can smell the poles! I go into the studio, using made­up sign language to get my point across. They don't know. All of a sudden, a dude pops up from behind the counter and says he knows which way to go. I follow him through narrow but terribly high corridors. And then, to the left I see: Pole Positions Moscow. I'm here! I felt like I found the gates of heaven. I tell the receptionist: "Vengrya", I have an appointment. They show me the room, I change as quick as possible and in I go and I instantly recognize the room I saw on Instagram. Of course I missed the warmup, but I'm so happy by now, all the endorphin could make me slide into the splits in no time.
(It's so easy to find the studio... start at 0:39 and have a look! :D )
The class is being held by Arina, the studio owner who is otherwise a lawyer. She is very considerate, explains everything in English as well. We are doing spinning pole combos. Not too difficult but I didn't train in a while so I'm exhausted by the end of it, especially because they have a one person per pole policy. No wonder Russian polers get so good so fast. Everything has to be done on both sides of course... could be called embarrassing. At the end of class, three minutes of freestyle choreography to a given piece of music. This is a good one that all pole studios should add to the agenda. Reduces shyness, increases confidence, creativity and stamina.
After class I can barely make it to the reception as the hall is packed full with guys. Yes, guys. They padded the corridor with mattresses and are practising somersaults. Just...casually. I can barely believe my eyes. In another smaller room a boy and a girl are practising their silk, there are also hoops hung up. There are two poles, one static, one spinning, in competition distance from one another and they are about 7­8 meters tall. There are wallbars, all kinds of equipment to perform acrobatic tricks, step boxes, bands, ropes and many other things. And then the holy grail! In the middle of the room, the flying pole. I can't resist the urge, I swing it, I lift myself up and I fly! I have a good grip, Jack­Knife, Attitude. I'm still alive. My strength leaves me here so I save it for my private lesson, as Alexander promised flips because he thinks anyone can do them. I trust his judgement.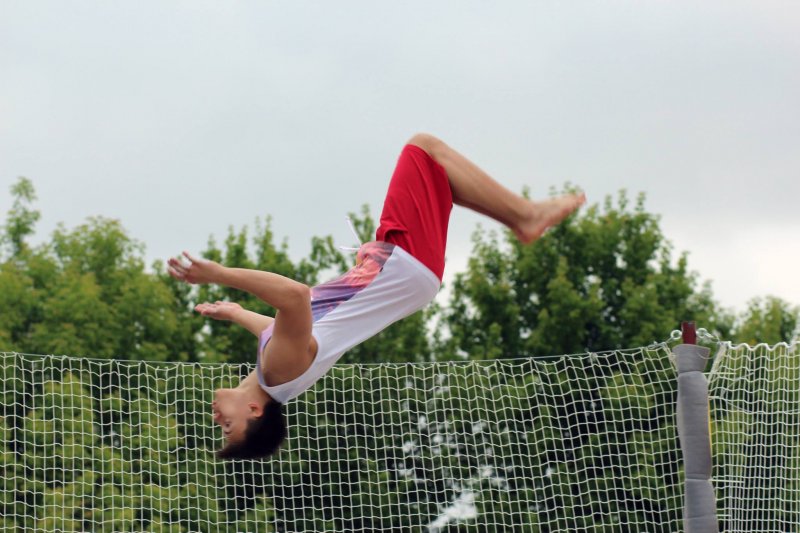 After two hours, some refreshments and good conversation I return to the studio, super confident in where I am heading. Easy for me now.
A high-spirited group greets me at the reception, all advanced polers. To my surprise, they all speak English. Egor Churakov is one of them, proudly presenting his Instagram page and his latest tricks. Somersaults continue without interruption in the background, and Aleksei Poryadnov whom I know from Bozina's videos, is balancing in a one-hand handstand.
I was an hour early and because someone cancelled, I joined a class that is held by Sasha. Again, I miss the warmup, so he tells me to warm myself up on the spinning pole. Then he shows me some one-handed, "boyish" spins, which I can mostly do. Now the flips and somersaults. From all kinds of handstands. With some help, they are not even that scary. The guys can do them all. Turns out all of these people have won one Russian contest or the other… this is when I realize that in Moscow, you can get to the Moon and beyond in only a matter of months, so I decide then and there that I will recommend visiting Moscow studios to everyone back home. But for now, flips. On both sides, naturally. At the end of class, improvisation again. I think nothing of it, but after about one and a half minutes I can barely climb the pole even though I really wanted to see the top. So I only drop from 3 meters. Okay, I guess.
I get a 10 minute break during which I get to see the contestants of the weekend's championship. Now these are performances! One of the girls does an entire set of elements on the spinning pole while holding a book in one hand. Even though this is not a lit stage, it is still mesmerizing. She says she has been poling for a year and have not done any excercise before. Some judo before that. Another guy started a year ago as well and he says he doesn't know much. Seeing his routine assures me that statements like that in Russia should not be taken seriously.
(Crazy tricks from those crazy guys of Pole Positions Moscow - from 2:17, some funny fails, too.)
My private lesson starts a bit before midnight. What would I like? Iron-X, Starfish, flips? One by one, we start doing all of them. Generously padded under for the Starfish, I still manage to fall on my face. Luckily not much harm has come to me apart from the sound I made when I hit the floor and the bruises that can not be denied, nor covered the next day. To be honest, I came out of it in an unorthodox fashion, nobody saw it coming. Not even Sasha. He also didn't expect that I would be just a head taller than the mattress under me. Moving on. Around midnight, maintenance workers arrive to fix the poles so we go into the smaller room. Pole flips, fonji and so on. I am not necessarily at the top of my game, but I concentrate, and Sasha is super helpful, thinking up a million supporting excercises. He also shows endless patience, so I keep nailing the dreaded tricks. After 1 am we goof around with drops and dynamic combos. Then we realize that we are both a bit tired, so the session comes to an end. We talk a bit after, about pole dance in Russia and Sasha's own plans.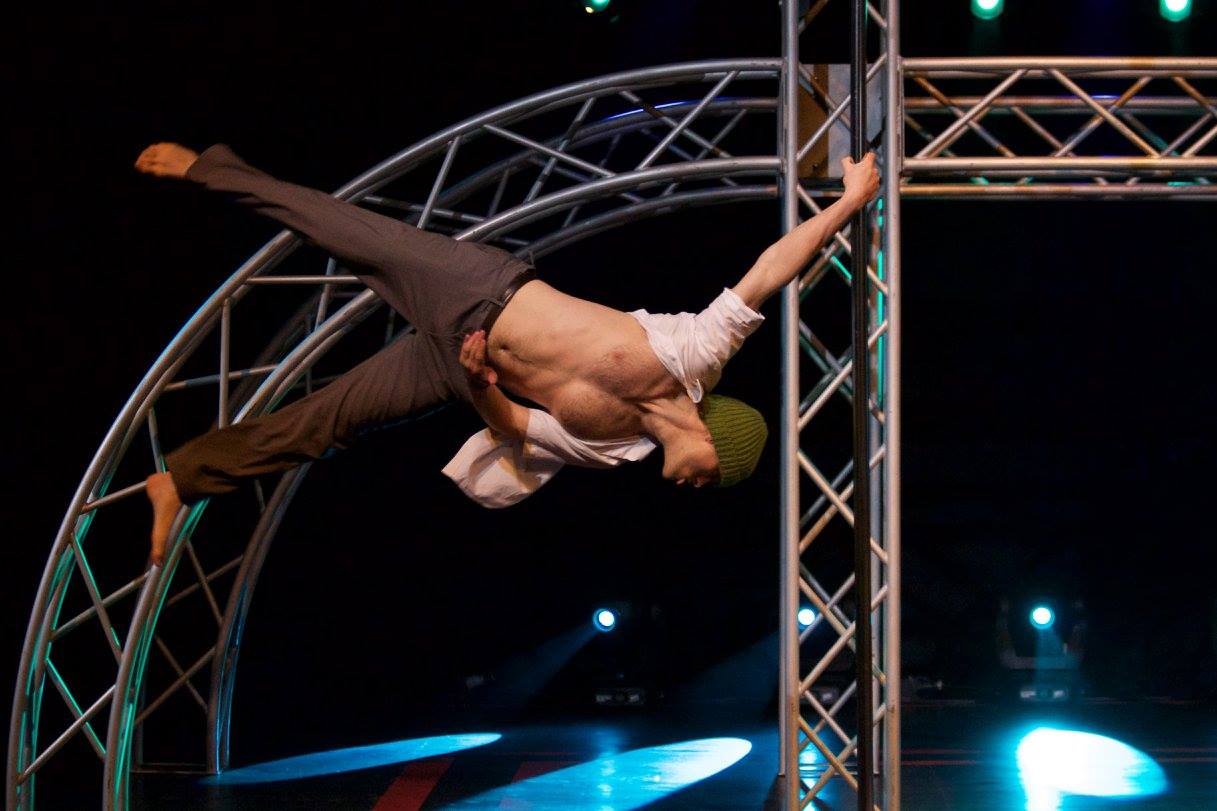 He tells me he usually trains after 22.30. I don't get it. He says that he has his eyes on the goal and nothing else. He knows what he wants and that comes at a price. I'm sure this price is quite high as I know from Facebook that he has a young son. He sleeps 3-4 hours at night, but he says he's used to it.
Everyone going to the studio is a completely regular person. He says there are not many people whose sole profession is pole. But they all love this place, it's like a workshop. They teach each other. I did experience first-hand, how welcoming, accepting and supporting the atmosphere was.
Plans for the near future? Pole Art Cyprus 2016. I can't wait! No doubt that my jaw will be sweeping the floor.
Author: EV (translated by Andrea Tamás)
---