Philology and pole sport - interview with Olena Minina
She's an educated musician, also holds a degree in philology. Besides these, she ranks among the top senior female pole sports athletes in the world. Interview with Olena Minina.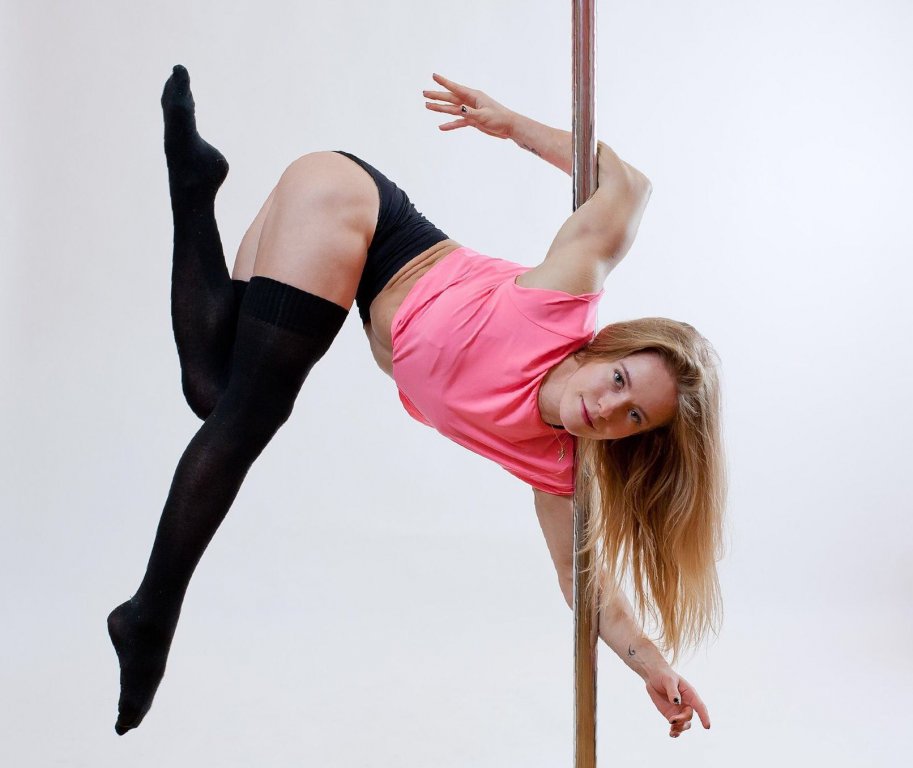 You have a very extensive athletic background. Gymnastics, figure skating, hiphop, just to name a few. How have these influenced you?
All the different things I did help with the different aspects of pole dancing. My gymnastics past has helped me with my strength and the 'fitness' aspect, and the dance classes I took help me create the choreos for the different routines today. So I am trying to merge sports and dance to make something beautiful. Also, my boyfriend is a choreographer, my choreographer. We fight sometimes, because I'm an athlete and he's a dancer, and when we create a routine for a competition, we don't always see eye to eye. I always want to add tricks, and he views the whole thing as a dancer.
Why pole dancing is the one of the long list of activities you have done that stuck?
I think because it's close to gymnastics. I competed in big competitions in gymnastics, but I did not get to that high of a level. I had certain goals with pole dancing and I am reaching them. I tried a lot of dance styles and once I saw a routine by Felix Cane. Even though her style is more sexy and feminine, I saw something different and said 'I want to do flips on that thing'. So I decided to try it. So I went to a studio and at first, I hated it. They didn't explain important details and did a lot of strength exercises which I didn't need. I just wanted to do pole. (laughs) I thought that was going to be my first and last class. Then sometime later, I tried again, in a different studio and also got asked to be a coach. So I started to learn pole dancing and I started coaching at the same time. (laughs) It was handstands and stretching.
Do you have any idols? Anyone in the pole community who inspires you?
I'm not sure that I have. I admire Felix Cane a lot, but I wouldn't say she is my idol as her style is completely different. I do have favourite routines from different pole dancers that inspire me.
You have competed in all types of competitions: Art, Theatre, Sport, Exotic. Which one is your favourite?
I think people know me for being the sporty type. I believe this is my signature style. I think it should be a mix of all categories. I mean even if you are competing in pole sport, you can add a choreography, you can add floorwork, you can add character. And you have to add tricks to an exotic choreo as well. I think, pole art is easiest for everyone, because it is open for competitors to express themselves. This year, I think I would like to compete in Classique category at a Pole Theatre competition, not just pole pport. It's nice to mix things up.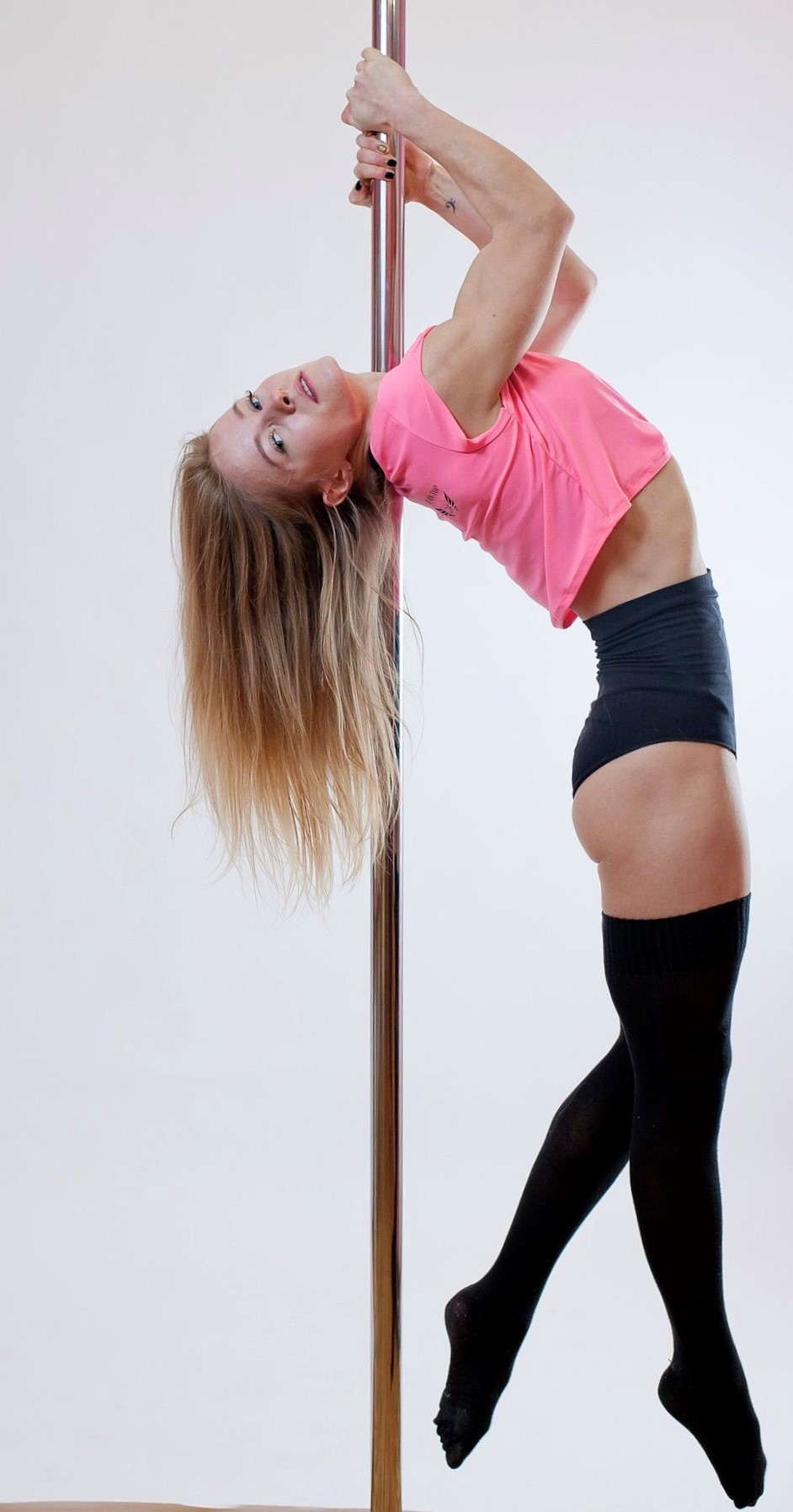 If I understand correctly, you have a musical background. Tell me about that.
I have had education in two fields. One is a musical education, I have been playing the piano since I was very little. I also studied music theoretics. My second degree is in philology, and I am an English interpreter. This one is useful because I use my English a lot at workshops.
Do you still play?
A little bit. I kind of lost inspiration in the past years, but I'm trying to play more and I'm also composing. My friends always tell me to do a choreo for one of my own pieces. Maybe one day, for a showcase. (laughs)
And not only do you compete, but you also judge competitions. Which one do you prefer and why?
I prefer competing, judging is very difficult. You need to concentrate and pay attention to the routine in front of you. You cannot think about any of their previous performances or their Instagram videos. You need to add the right scores. It's especially hard in the Elite category, because all competitors are on a very high level, and you need to see the details of their performance very clearly. Judging Pole Theatre is different, it's more enjoyable because it's more like a show and you only have to give scores in 5 criteria. A few weeks ago I was judging a sports competition for kids, I was the technical judge. That was very difficult. Also, because I am a performer, I prefer to be on the stage. (laughs) I prefer to pole dance and not watch pole dance.
What is the most challenging part of pole dancing for you?
I think the hardest tricks for me are the flexibility tricks. Backbends. Perhaps because of the strength exercises, acrobatic and dynamic tricks, my back is not that bendy. One day, I would like to do a routine, just to shock everyone, with all the backbend tricks. I promise I'll work on my back flexibility. (laughs) I even have a very old video of a not perfect Rainbow Marchenko. Maybe I'll work on that as well.
What do you do in your free time? Off the pole?
That's a difficult question. I have no idea. (laughs) I'm on the pole all the time. I'm either teaching, competing or training. But when I'm not pole dancing, I enjoy travelling and pole dancing has helped me in that, because I have a lot of workshops abroad. Sometimes I go to an acrobatic gym to see if I can still do gymnastics tricks. Or I go to the ice rink just to have fun. I have a tradition where I go ice skating on New Year's Day. :)
Photos: Aleksandr Makarenko
Author: Andrea Tamás
---