"Tomb Raider is my favourite" - interview with Anastasia Skukhtorova
She has 132k Insta fans and 15k YouTube followers. And featured on probably the best known and most used pole photo ever. Yes, she's Anastasia Skukhtorova! We've just had a little chat with her during her workshops in Budapest.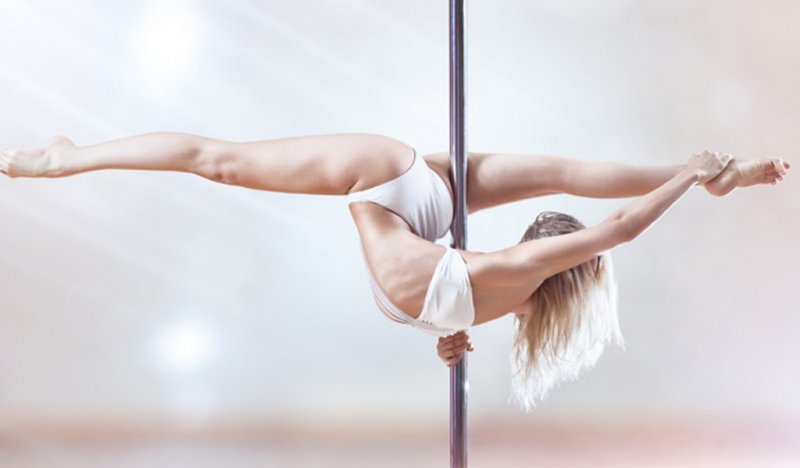 You represent this very artistic, very graceful style within pole dance, and I was wondering how did this come about and how is this style related to you as a person?
I think first of all it depends on the studio where your start, because they give you the basics. It's very important for your style. I started in Moscow and the style that they were teaching was very elegant, very graceful, and from the first class (for me that was seven years ago), they were teaching us to point our toes. In other studios, nobody paid attention to this, so if I would have gone to another studio, my toes would be all over the place and flexed (laughs) and I would definitely have a different style. Second, it comes from your soul, what is inside. So, I have these feelings. My life is great – I have good and bad times just like everyone else, but mostly, it's great – so it's a bit weird that I have these sad feelings when I'm dancing, I mean, when I hear a sad song, I can just feel it inside so intensely, which is very interesting. So, it has to come from inside your soul, so it represents you.
You have also been described like you do ballet on the pole, which is interesting, considering that you had no former dance training. How did you become this ballet/pole dancer merged into one?
Yes, many people say that my dancing looks like ballet. Again, I think it comes from this first studio, because their dancing and the way they taught us dancing was beautiful and elegant, so that definitely makes a difference. Also, when I was little, I always wanted to be a ballet dancer, but I never tried classes, but I always loved watching ballet performances as well as gymnastics. I always loved these so I guess it just came to me. And again, the way I feel. I have always been kind of naive, not a bad girl really, so maybe that's why. Classic ballet is this pure and beautiful thing, so maybe we just match.
Who are your personal idols and why?
I always loved Felix Cane. I have never seen anyone move the same way as she does even though I have been following her for 7-8 years, and during that time, many new people popped up in the world of pole dancing, many crazy strong, crazy flexible, or with an extensive dance background, but still, nobody moves like her. Her moves are so beautiful, her transitions are so flowy. You cannot really see how she enters a trick or comes out of it, it's just one flow. I think I will always love and look up to her. There are also some circus performers that inspire me a lot. Many of them came from poor families and achieved so much, their stories are so inspiring.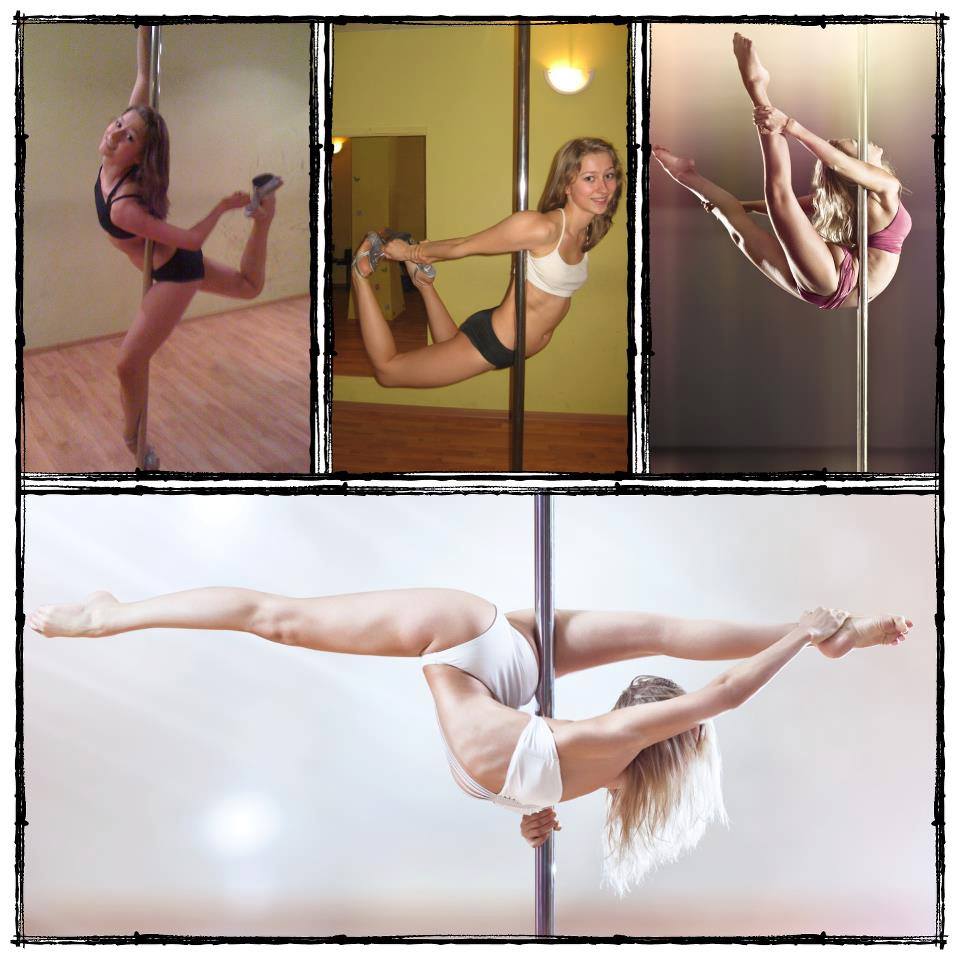 (Why it's worth working hard: see photos before and after. Just below the probably most popular pole photo ever. Photo montage: PDF)
Other than these performers, where do you get your inspiration for your dancing?
I guess my boyfriend. He does parkour, so he's active, but in a different area. He is very positive and believes that everything is possible, and that if you have a goal, you can achieve that goal if you work hard. That mentality is also inspiring me.
Your hobbies include anything aerial, silk, hoop, etc. What do you do in your freetime when you are not high up in the air?
I love to spend time with my friends and I love playing computer games. Tomb Raider is my favourite. The one that came out in 2014, I played it all the time. I remember, I was so tired, had a lot of competitions, then I went home to Moscow and I was playing it every day for two weeks. I didn't do anything else, no pole dancing, I just wanted to relax. This year, I haven't played at all however.
Also, last summer, I tried climbing and I really liked it, not professionally, more for fun. I also started to learn to play the ukulele, I also tried surfing, and I want to keep doing it, that's a lot of fun. Sometimes, I like to do gokart. It's good to mix it up. When you're pole dancing, you forget about life, it's only about the pole, but life goes on and there are so many things to do, so many interesting places to visit, people to meet. And of course, the pole dancers I meet are interesting people, but it's good to get to know other people too. It's good to talk about something other than pole. (laughs)
Still, I must go back to pole dancing. You have done many competitions, also entered Russia's Got Talent and you perform a lot. What are the challenges? Do you have any fears when you take part in such an event?
I think I was never afraid to perform, I always felt quite confident. Not every time, but most of the time I liked it, because I'm doing it for fun as well, not just to compete. I'm doing it for myself and to meet new people, see new places. So usually, I was okay. Even if I would have lost, it would have been fine. Because when you lose, you know what to work on. I too believe that everything is possible and you just need to work on yourself. If you're afraid of something, just do it, try it. You will see that at the beginning it seems so difficult. And it is at first, but after some time, you will see that it's not that scary after all. ű
(One of Anastasia's early YouTube videos.)
On that note, what advise would you give to those that are preparing for a performance or competition and are nervous or afraid?
I remember once I tried to think about something really bad before my performance because I was a little bit nervous. The theme of my performance was also kind of tragic, so I started to think about something really bad… not really from my life, but my family's life. It actually helped me to calm down, because that situation was so sad, that my performance on the stage couldn't possibly be compared to that. So I cooled down and I went on and did a great performance, and I remember, it was the first time ever that people stood up in ovation. It was amazing. I never had that before… or since then. So it helps me to think of something sad, to put things into perspective.
You travel a lot and share your knowledge. What does it give you to teach other people?
I am very inspired by the people that come to the workshops, when you watch them and they achieve something. Or a lot of people are so creative. They can take your transitions and put something else into it and it becomes something new and beautiful that I just say "Wow, I'd like to try that too!" (laughs) This happens very often. And of course you meet new people, so you always learn something new. Visiting new places, talking to people makes you learn and grow constantly.
What are your future plans? With pole dancing and otherwise?
For now I'd like to keep travelling until I can. My boyfriend is from Denmark, so I'm trying to move there. So my plan is, if everything goes well, to settle down in Coppenhagen, Denmark and then maybe after some time, open a studio. This is just an idea for now. Maybe one day.
(The second most viewed video of Anastasia.)
Author: Andrea Tamás
---